Page is under updating latest 09-07-2020. Read in English further down.
"Read more at BANKNYT.dk. Bank News Banking News."
Kan jeg stole på Jyske Bank, er Jyske Bank ærlige, hvem er den bedste bank.
Åben en ny side her, og brug denne side til at se bilag.
Mens du læser om sagen på siden, og hører samtaler.
We all have our little struggles in this life, but that it should take 4 years to get our case presented to the court.
Due to adversarial corrupt Danish lawyers were not expected.
Hør de ansatte i Lundgrens maniplurer deres klient, uden at fortælle at Lundgrens arbejder for Jyske Bank og har en skjult dagsorden.
Og spørg dig selv om de danske advokater i stor stil har problemer med at leve op til god advokatskik, ligesom Jyske Bank problemer med at leve op til god bankskik.  
Samtaler er delt flere steder, lyt mens du læser sagen, og forstå at Lundgrens er med til at dække over at Jyske bank udsætter kunder for svig.
Og Nej Mette Marie vi kan ikke tage sagens påstande under hovedforhandling, det skal fremlægges inden, dette siger Emil Hald også.
Lyt og forklar hvorfor Jyske Bank A/S efter samtaler i December alligevel tager 300.000 kroner fra os.
Når Lundgrens siger at Jyske Bank har indrømmet at der ikke er noget lån.
🙂
Jyske Bank viser her i vores sag, hvordan danske banker som her Jyske bank arbejder.
Det er muligt vi tager fejl, men læs om vores kamp imod Danmarks nok rigeste kriminelle.
Hvor politiet holder hånden over deres overtrædelse af straffelovens bestemmelser.
Så hvis du opdage at Jyske bank også bedrager dig, så forbered dig på at du kommer til at stå meget alene i kampen mod en tilsyneladende kriminal origination.
har en anden der har skrevet om det samme problem
DET ER FAKTUM AT
Jyske Bank lyver, snyder og bedrager os kunder, dette er nu, blevet fremlagt Domstolen i vores sag.
4 år efter vi opdagede at Jyske bank koncernen udsatte ud for bedrageri.
Du spørger nok hvorfor vi ikke har bedt en advokat om at fremlægge det noget før, hvilket vi kontinuerligt forsøgt.
Kære Læser Politi og Statsadvokat og du som er advokat eller arbejder i en bank.
Lyt her til de 5 samtaler, og sammenlign det som sagsøger siger til de ansatte først Rødstenen advokater. Bilag 220 A.
Med det Lundgrens senest selv fremlægger 02-09-2019. Bilag 134. et processkrift som Lundgrens i øvrigt nægtede at give klienten en kopi af, hvilket klienten 05-09-2019 anmoder om en kopi af Se Bilag 138.
I samtale 18-12-2018. med Mette Marie Nielsen fra Lundgrens advokater omtales der nogle dokumenter, disse bilag kan du printe ud her ved Bilag 134. men særligt 3 dokumenter bliver omtalt Bilag som klienten her 28-12-2018. forsøges selv ved dette Bilag 225. at fremlægges, særligt Bilag 28. 29. 30. omtales i samtale, samt Bilag D.
Når Jyske Bank A/S ansatte her skriver at kunde har lånt 4.328.000 dkk i Nykredit og 2 år efter skriver at kunden har omlagt dette lån.
Og når Jyske banks advokat først advokat Morten Ulrik Gade i pengeinstitutankenævnet 2013. fremlægger dette her lån.
Som et bagvedliggende lån for en swap med Jyske bank.
SKAL DET SÅ IKKE VÆRE SANDT.
Anders Dam alle kan lave fejl, men hvad gør man så der kommer en og siger HOV der er vist manipluleret i bilagende.
🙂
Da advokat Philip Baruch for domstolen 2015. fremlægger at der er lavet en swap for at rente sikrer et bagvedliggende lån.
Ved Lund Elmer Sandager advokaten godt at dette er usandt.
Eftersom Lund Elmer Sandager tilbageholder bevismateriale som de af Jyske Bank A/S har fået udleveret.
Er Philip Baruch da i ond tro da han fremlægger falske beviser i retten for at skuffe i retsforhold.
Vi undlader at gå dybere ned her, men vores påstande, der er fremlagt 28-10-2019. og kan læses i Bilag 153.
Som er blevet gen fremlagt 04-05-2020. Bilag 204. (Bilag 179.) da Jyske Bank A/S ikke forstod dem første gang.
Når man som bank Lyver, og gentagende Lyver så er der tale om svig, uanset at alle ansatte i Lundgrens siger det er PIV ligemeget.
🙂
Find de omtalte bilag der er nævnt i sagen fra perioden 28-12-2018. til 23-08-2019. her fremlagt som Bilag 148.
Disse samtaler er altså vigtige for at understrege at Lundgrens advokater modarbejder at en dommer kan udfører hans kald efter grundlovens § 64. 
🙂
Det kræver ikke den store eksamen, for at hører hvad Carsten siger, og som både Mette og Emil bekræfter.
Og det er ikke det som Emil Hald Winstrøm fremlægger 2. september 2019. Bilag 134. som i øvrigt uden klientens godkendelse.
"vi fremlægger ikke noget uden du er fuldstændig enig." Udskrevet Bilag 93. hør Emil bekrafter klientens påstande, men fremlægger noget andet, og har fjernet de flere af vidner klienten har fastholdt skulle indkaldes.
Selv om Jyske Bank må have betalt vores tidligre Lundgrens advokater for, at vores påstande med beviser mod Jyske Bank A/S for brug af svig og falsk, ikke af Lundgrens blev fremlagt byretten, hvem har så ansvaret. 
HVIS JYSKE BANK ER UENIG I NOGET
SÅ RING +45 22 22 77 13
OG SIG HVAD I IKKE ER ENIG I.
LAD OS MØDES OG SAMMEN SE PÅ DET JYSKE BANK IKKE ER ENIG I
SÅ RETTER VI MED DET SAMME.
Du skal bare ringe Anders Dam, det er derfor vi konstant siden 2016 har har forsøgt at komme i dialog med dig.
Det eneste der er sket siden er at dine aktionærer har klappet dig på skulderen og givet dig 4 lønforhøjelse.
Alt i mens du står i spidsen for Jyske banks bedrageri mod os.
🙂
Anders Dam du skal ikke være flov over at være blevet opdaget.
Men du bør nok skramme dig lidt over du ikke er mand nok til for Jyske bank A/S.
At indrømme lad os sige bankens "
små

fejl."
Siden maj 2016 har vi skrevet vi til dig Anders Dam, da Jyske bank har et troværdighedsproblem.
🙂
Vi ved ikke om Jyske bank også har betalt noget til Rødstenen advokater, eller givet Rødstenen andre
fordele

.
Vi ved kun at Rødstenen har opført sig på en måde der ikke er en advokat værdig.
Det kan du læse mere om i klagen over Lundgrens og Dan Terkildsen klagen som du og ledelsen har fået en kopi af. Bilag 233.
Der er mange der stjæler i Danmark.
Vi ber dig som leder af Jyske Bank A/S Anders Dam
At sørger for at Jyske Bank vil undersøge vores påstande mod Jyske Bank A/S for brug af svig.
Du som ordstyrende formand og ledelsen mindst siden maj måned 2016, kendt til disse beskyldninger. 
Kære Anders Dam
Hvis vi har ret, er det så ikke bare at siger undskyld og forklare Jyske banks brug af svig.
Du kan jo som Dan Terkildsen sagde i 2019, starte med at beklage dig.
Anders Dam og ledelsen i kan altid forklare jer.
Sig som Mette Marie Nielsen i Bilag 91. siger, at det var en fejl.
Og forklare at der er forskel på at bedrage
bevidst

og så lave en fejl
At Jyske Bank alligevel efterfølgende denne samtale, har taget 300.000 kr. fra vores konto
når Lundgrens siger der er tale om en fejl, det forstår vi så heller ikke.
🙂
DETTE HER ER EN OPGAVE FOR POLITIET.
Det er ikke en opgave for offeret, som det er blevet til. 
Det bør altså ikke være kunderne selv, der skal bekæmpe kriminalitet i de danske banker.
Kald det hvad i vil, men Jyske Bank A/S i udsætter os for et fortsat bedrageri.
Kære Jyske Bank, hvis i har rent mel i posen, så bed politiet om.
At undersøge om Jyske Bank A/S laver bedrageri mod nogle af deres kunder.
At undersøge om Jyske Bank A/S laver dokumentfalsk.
At undersøge om Jyske Bank A/S gør brug af falske og manipluleret bevismidler i retsforhold.
At undersøge om Jyske Bank A/S gør brug af bestikkelse gennem returkommission.
At undersøge om Jyske Bank A/S gør brug af udnyttelse.
🙂
Når jeres offer kontakter politiet, så vil politiet ikke tage sig af det.
Det er offeret selv der, efter Lundgrens har måtte lede efter en advokat der ikke var korrupt
At Lundgrens blev opdaget var i lommen på Jyske Bank A/S det var vel ikke så godt.
Det er i hvert fald en god forklaring på hvorfor Lundgrens gjorde det modsatte af de instrukser de fik.
At politiet syntes at holder hånd over de største kriminelle banker, det er en gåde.
Hvis Jyske Banks bestyrelse ikke er enige
Har i / du Anders Dam siden maj 2016 kunne svare på disse beskyldninger.
At ledelsen og dig Anders Dam har valgt at fortsætte bedrageri, frem for dialog er dit og ledelsens valg.
Siden og opslaget her skal ses som morsomt, men vi vil hellere lave noget andet.
Dette er derfor en opringning til Ledelsen i Jyske bank A/S
LAD VÆRE MED AT UDSÆTTE OS SVIG
At det er CEO Anders Christian Dam som formentlig er ham sammen med den øvrige ledelse, der har besluttet i april 2018.
Også at købe kundens advokater Lundgrens, for at Lundgrens ikke måtte fremlægge kundes svig og falsk påstande imod Jyske Bank A/S.
Det virker da ret
indlysende

.
Kan du Anders Dam ellers forklare hvorfor Lundgrens advokater, ved Mette Marie Nielsen Bilag 87.A og 91.A i december 2018 fortæller deres klient.
At Jyske Bank har indrømmet at der ikke er lavet nogle rente
bytteaftale

.
Og siger at det er en fejl, hør hvad de maniplulerende advokater siger
Og hør hvordan kunden kæmper for at få fremlagt deres påstande.
Kan du også fortælle hvorfor Jyske Bank A/S efterfølgende fortsætter med at stjæle / snuppe 300.000 kr. fra deres kunde.
Hvilket du kan se på disse hævninger.
Senest 30-06-2020. hvor Jyske Bank hæver knap 71.000 dkk. 
For noget Lundgrens i 2018 siger er en fejl og ikke bevidst svig.
Og som vi også efterfølgende har bedt dig, at lige undersøge en ekstra gang, om Jyske Bank U
berettiget har tage vores penge.
Kunde som gentagende skriver til ledelsen CEO #AndersDam hvis det er en fejl så indrøm det, og sig undskyld.
Det er da ikke så svært at forstå for den redelige jyske bank.
Hvis Jyske Bank måske CEO Anders Dam tør svare på trustpilot anmeldelsen her, og for engangs skyld
Har kunde ikke altid ret, det for sjov anders 🙂 men undersøg det nu, er det sandt eller er det ikke sandt.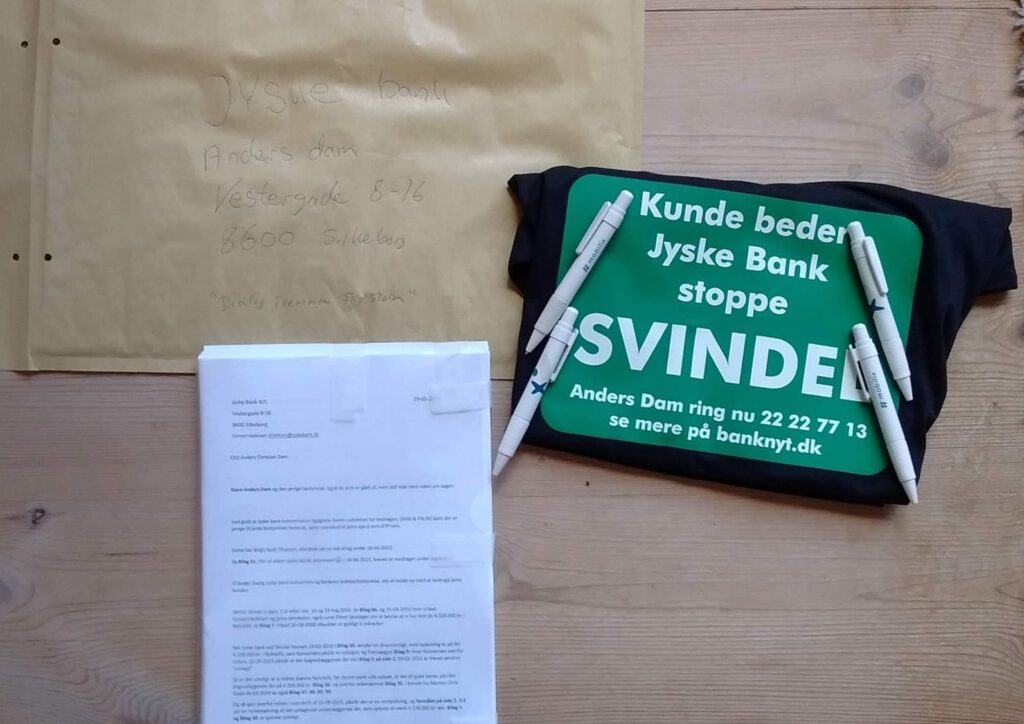 🙂
Anders Dam og Jyske Bank
KAN I GIVE EN FORKLARING PÅ HVORFOR.
Intet der er fortalt i disse 4 samtaler med Lundgrens, er
refereret

i noget af det Lundgrens skriver.
Det er jo ikke fordi vi ikke bliver ved med at skrive det samme som vi telefonisk siger.
Lundgrens må af Jyske bank være være blevet betalt for at modvirke retfærdighed, og hjælpe Jyske Bank A/S med at skuffe i retsforhold.
Hvorfor mon politiet ikke vil efterforske de danske kriminelle banker.
Beviserne her er ellers meget klare for.
At Jyske Banks benytter sig af Svig forretninger.
Dette er lige så sikkert som amen i kirken.
HVOR MANGE BEVISER SKAL I HAVE !
Har du Anders Dam, eller andre i koncernen
Har nogle spørgsmål så ring +45 22 22 77 13
Vi er stadig friske på en offentlig duel / debat på Jyske Bank TV.
"Så får du også Hjemmebanefordel."
TØR NOGLE AF JER I BESTYRELSEN MØDES MED JERES OFFER.
OG TAGE EN OFFENTLIG DEBAT OM JYSKE BANKS TROVÆRDIGHED.
SÅ ER DETTE HER EN OPFORDRING TIL LEDELSEN.
indrøm og sig undskyld
Anders Dam hvis du gider at tale med os
Behøver vi jo ikke at skrive her i dagbogen.
Kan du slet ikke forstå vi ønsker BARE at komme i dialog.
🙂
Når Statsadvokaten nægter at lade Jyske bank koncernen, og deres advokater og ansatte efterforske, for medvirken til bedrageri mod Jyske banks kunder.
Så fortsætter Jyske Bank jo bare med at lave bedrageri.
Det er jo som godskik regler, dem skriver bestyrelse medlem Philip Baruch i flere sager, at dem behøver
 

Jyske Bank altså ikke at overholde.
Da det ikke nogen konsekvens og overtræde disse.
Og
Statsadvokaten skriver så at anmelder, selv må selv fører sine påstande civilretligt.
🙂
Nå vi så opdager at Jyske Bank A/S
Efterfølgende vælger at købe anmeldelsers advokat.
Velvidende at det danske politi ikke må, eller vil efterforske de danske banker, for overtrædelser af straffeloven, så er bankernes offer jo oppe i en meget ulige kamp.
🙂
Dette er en advarsel imod Lundgrens advokater for at manipulere deres klienter.
Lundgrens har ikke ønsket at svare deres tidligre klient på nogle af de fremlagt breve.
Læs også Bilag 147. til Jyske bank.
Hvorfor klienten selv må fyre Lundgrens og selv fremlægge deres påstande for retten
Inden klienten selv skriver og fremlægger Bilag 153.
Som efterfølges af Bilag 204. processkrift 3. 4 maj 2020.
🙂
Lundgrens Bestyrelse og mange ansatte har nægtet at svare deres tidligre klient
Der før klagen til advokatsamfundet Bilag 233.
Skrev til Lundgrens ved Bilag 202. og Bilag 203. som Lundgrens ikke svarede på.
🙂
Har Jyske Bank A/S betalt Lundgrens advokater returkommission
For ikke at fremlægge deres klients påstande mod Jyske bank A/S
Hverken Lundgrens eller Jyske Bank ønsker dialog
Vi ønsker bare dialog og gennemgang af vores sag
Og beviser imod #Jyskebank koncernen, for at udsætte os kunder for bevidst bedrageri.
Kunde skriver derfor gentagne gange, til ledelsen og CEO #AndersDam
Hvis det er en fejl så indrøm og sig undskyld.
Hvis ledelse i Jyske Bank som siden siden maj 2016. har valgt at dækket over bankens bedrageri giver kunde ret, bør ledelsen i Jyske Bank gå af.
Ethvert medlem der ikke længere ønsker at støtte Jyske banks bedrageri i mod lille bank kunde.
Kan sætte deres mandat frit, hvilken kunden da også skrev til bestyrelsen i 2018.
Men bestyrelsen i Jyske Bank må have ment at have styr på sagen.
Efter som Jyske Bank´s Ledelse har købt Lundgrens advokater, som jo også var kundens advokater.
Således var kunden reelt uden advokat, da Lundgrens fik millioner for at hjælpe Jyske Bank A/S.
Vel sagtens for at Lundgrens ikke fremlagde klientens påstande for retten. som er Bilag 153. og Bilag 204.
Og hvis nogen skriver noget andet, skriver de med ført pen, Rødstenens taler med Lundgrens hvilket Dan oplyser 5. februar 2018.
Og bliver vel enig om at Lundgrens skal fjerne alle klientens påstande og beviser mod Jyske bank A/S
For så har han en god sag. ?  ER LUNDGRENS DUMME ? NEJ de er kun nok mere korrupte.
Lundgrens kunne jo skrive, tag alt tøjet af og hop ud og leg i sneen, så får du varmen.
Skulle en sag bleve dårlig ved at fremlægge sagsøgtes brug af svig og dokumentfalsk ?
Men i stedet fremlagde de påstande, som må være en aftale mellem Jyske Bank og Lundgrens advokater, du kan læse dem på Bilag 134. date 02-09-2019.
Lundgrens nægtede efterfølgende at dele disse af Lundgrens fremlagte Bilag 134. påstande med klienten, som Bilag 138. udmærket understøtter. date. 05-09-20199.
Klienten spørger Lundgrens 20. september 2019. om de arbejder for Jyske Bank A/S ved  Bilag 140. og Bilag 141.
Lundgrens nægter at svare, på så direkte et spørgsmål.
Når Dan Terkildsen Bilag 144. skriver det har ikke haft nogen indflydelse på sammen arbejdet mellem Jyske Bank A/S og Lundgrens Advokater
Et samarbejde som lundgrens advokater har formået at holde skjult overfor deres klient, frem til klienten selv 21 september 2019.  finder bevis ved Bilag 12. 
Eftersom Lundgrens advokater nægter svare på om de har et samarbejde med Jyske Bank A/S
Vælger klienten at sparke Lundgrens i rumpen og fyrer dem, sendt kl. 20.58 den 24. september. ved Bilag 142. og Bilag 143.
Efter Lundgrens er blevet fyret, efter mistanke om at være korrupte, og betalt af Jyske bank for ikke at fremlægge klientens sag mod Jyske Bank.
Svare Partner Dan Terkildsen ved 25-09-2019 ved Bilag 144.
Men efter som Lundgrens mener de skal have 232.000 dkk. for ikke at fremlægge klientens sag for retten.
Bliver det nødvendig at klage over Lundgrens og deres advokater, der er i særdeleshed klaget over Dan Terkildsen.
Men der er flere indblandet fra advokatfirmaet Lundgrens, du kan læse hele klagen her Bilag 233. her kommer der link til nævnte Bilag.
Kunde beder stadig ledelsen i Jyske bank om at rette deres små fejl.
Og indrømme at forbrydelser ikke altid betaler sig.
Haloo se det som en joke.
Men ledelsen og deres advokater synes ikke at bekymmer sig om, alle aktie ejer i Jyske bank A/S har samme holdning som bestyrelsen til at benytte sig af dokumentfalsk og bedrageri "svig og falsk"
Mens de små kunder forsøger at råbe Jyske banks ledelse op.
Warning against Danish banks like Jyske Bank, when they can deceive us, they can also deceive you.
Du tror nok dette er her ikke finder sted i danmark.
At store banker, som Jyske Bank A/S der blev støttet af den danske stat med 4 hjælpepakker.
Takker staten ved udsætte kunder for helt bevidst bedrageri, støttet af ledelsen ved CEO Anders Dam.
Ledelsen og CEO Anders Dam har mindst siden maj 2016, været bevidst om at kunde i Jyske Bank var udsat for svindel.
Alligevel har Anders Dam, Philip Baruch, Lund Elmer Sandager advokater, nægtet enhver form for dialog med den lidt små sure kunde.
For helvede man bliver trat !.
Hør de foreløbige delte samtaler i mellem Lundgrens advokater.
Som Mette Marie Nielsen og Emil Hald Winstrøm og Carsten Storbjerg Skaarup.
Og forklar så
Hvorfor Jyske Bank A/S valgte at ansætte Lundgrens advokater, som efterfølgende valgte at maniplulerede deres klient.
Og dirækte imod klienten og klager, fremlagde noget andet end det klienten kontinuerligt sagde og skrev.
SIDEN HER ER VORES DAGBOG.
Hvor vores kamp for retfærdighed er beskrevet.
Når kunde påstår at Jyske Bank A/S står bag både udnyttelse / dokumentfalsk / bedrageri.
Og med stor sandsynlighed sikkert også, står bag bestikkelse, af kundens tidliger advokat Lundgrens advokater.
Hvilket var for at Lundgrens ikke måtte fremlægge Jyske Banks kundes påstande, i mod Jyske bank A/S
for blandt andet brug af svig og falsk.
Så forventer vi at Lundgrens vil forklare, om de slet ikke kan forstå dansk.
Hvis Jyske banks ledelse, har en anden forklaring på at Lundgrens advokater ikke har fremlagt deres klients sag imod Jyske Bank A/S for brug af svig og falsk.
End den påstand den tidligere klient i Lundgrens advokater har fremlagt i sin klage mod Lundgrens Bilag 233.
Som er delt med ledelsen og CEO Anders Dam i Jyske Bank, så ville dialog kunne hjælpe.
Kære Jyske Bank A/S og CEO Anders Dam
Dette her er et opråb til dialog.
Vi synes ikke dette her er særligt morsomt.
HJÆLP OS NU
Spørg i Jyske Bank om der er noget af det, vi her skriver som er opspind, eller om Jyske Bank A/S laver det som kunde har fremlagt i Bilag 153. og Bilag 204. og Bilag 233. som brug af udnyttelse, svig, falsk og brug af returkommission.
Deler det på forsiden her af free6. ny-bank. bank-nyt. tyv. domhuset. tyve. retten. tvnu. domhus. politimand. forbryder. bombe. i håb om at Jyske Bank ser at vi forsøger at få dem i tale.
DET ER JYSKE BANK DER ØNSKER SAGEN
IKKE OS.
Dette siger og skriver vi konstant, hvilket delte samtaler også bekræfter.
Vi synes ikke denne her måde at drive bank, lever op til reglerne om bankdrift i danmark, men Jyske Bank er ligeglade med alle regler og love.
Deres magtfulde venner holder hånden over ledelsen i Jyske Bank.
Nu beder vi bare om at vi får en snarlig hovedforhandling og har anmodet Jyske Bank om ikke at trække sagen yderliger.
Brev til Ceo Anders Dam 06-07-2020. klik og læs det her med link til oplyste bilag.
In Denmark the police seems to support the Danish criminal banks, so there is no help to receive.
It appeared to be politically determined not to investigate the Danish banks for crime, a police officer have told it, to the plaintiff.
Read the prosecutor against Jyske Bank A/S that was presented to the court on 4 May 2020. Procedure 3
And also read the resubmitted provisional Prosesskrift 3. from 28-10-2019. which Jyske Bank could not understand.
Now 4. May 2020. as Appendix 169. "and is Appendix 153. in the Appendix 233. in
 the complaint against Lundgrens Lawyers.
Hear how the client has to contend with Lundgrens, og listen to telephone conversations with
 

Lundgrens here.
And understand how deeply manipulative Lundgren's lawyers have appeared to their client.
Lundgrens forgot to disclose about their cooperation with Jyske Bank A/S to help Jyske Bank disappoint in legal matters.
That Lundgrens lawyers actually work for the counterparty Jyske Bank A/S Appendix 12.
Is a huge problem, especially when Lundgren's manipulate with the client's claims.
These conversations are written off and presented to the legal community.
BILAG 87.A. MP3. 14-12-18 samtale med Mette Marie Nielsen Lundgrens.
---
Could as well have asked CEO Anderes Dam if he would lead our case against Jyske Bank for the use of fraud.
Then Jyske Bank would not have had to bribe Lundgrens, or what Jyske Bank would call it.
BILAG 91.A. MP3. 18-12-18 samtale med Mette Marie Nielsen Lundgrens
When Mette Marie manipulates and, say
an agreement from 15-07-2008 i
s closes the day after 16-07-2008. but it is not true.
Now look at the 2 documents and dates, and understand that Annex E. page 4. closes 30-12-2008 and not 16-07-2008.
When Mette Marie Nielsen acts as a lawyer and chooses to cover Jyske Bank's forgery for Lundgren's lawyers, that's a problem.
It is also these agreements that Jyske Bank has disposed of, which is illegal.
Don`t Jyske Bank hired Lundgren's lawyers to help, conceal this from the court by manipulating the client.
Who Jyske Bank A/S employed Lundgrens to file a lawsuit against Jyske bank for multiple fraud allegations and False.
And ask yourself how much has Jyske Bank A/S paid Lundgrens to acting so stupid.
How Lundgrens can take on a fraud case against Jyske Bank
And at the same time take up employment in Jyske bank is a riddle for the plaintiff and complaints against Lundgren's lawyers.
Hear how Mette Marie Nielsen for Lundgren's lawyers continues to manipulate the client, to divert complaints from the allegations of fraud, and keep in mind that Lundgrens already receives millions to help Jyske bank.
---
BILAG 92.A. MP3. 22-03-19 samtale med Emil Hald Winstrøm Lundgrens
---
BILAG 93.A. part. 1. MP3. 08-07-19 samtale med Emil Hald Winstrøm Lundgrens
---
BILAG 93.B. part. 2. MP3. 08-07-19 samtale med Emil Hald Winstrøm Lundgrens
---
Listen to what Lundgrens confirms, that the wants to present the court, on the second of September.
Emil Hald Winstrøm says it is Dan Terkildsen ther is in control of the case.
And that Lundgren's lawyers would not share with their client. September 5. tries to get Dan Terkildsen to hand over a copy.
Dan Terkildsen does not answer the request Appendix 138.
We are awaiting the board to answer our lawyer. 19 July 2020. after the danish bank Jyske bank asked the court for an additional 6 weeks deadline
To answer charges against the bank for use of fraud, exploitation, document forgery.
Free coffee at Jyske Bank, IT'S FOR FUN
Will you want to help us, so that the Danish Bank like here Jyske Bank A/S can realize.
And make the Denmark's second largest bank, stop exposing their customers to Fraud and False.
The management of Jyske Bank, including CEO Anders Christian Dam, is stunned to care what the customers of Jyske Bank do.
As long as the bank can continue their deliberate fraud against their customers.
Læs og hør optagelser mellem ansatte i det korrupte advokatfirma og klienten.
I så fald Lundgrens advokater, ikke mener deres advokat firma er blevet bestukket af Jyske Bank A/S.
Imødes en god forklaring.
Men læs nu klagen først.
Klagen er velbegrundet og viser tydelig tegn på jyske banks brug af bestikkelse, for at skuffe i retsforhold.
To understand how corruption and bribery are a major problem in Denmark.
Bribery to cover criminal activity in Jyske Bank A/S which the board is standing behind still continuing.
And hear conversations between Lundgrens and the client while reading transcripts of conversations.
Follow the little man's fight against the Danish fraud bank.
Well assisted by Lundgrens and Lund Elmer Sandager attorneys.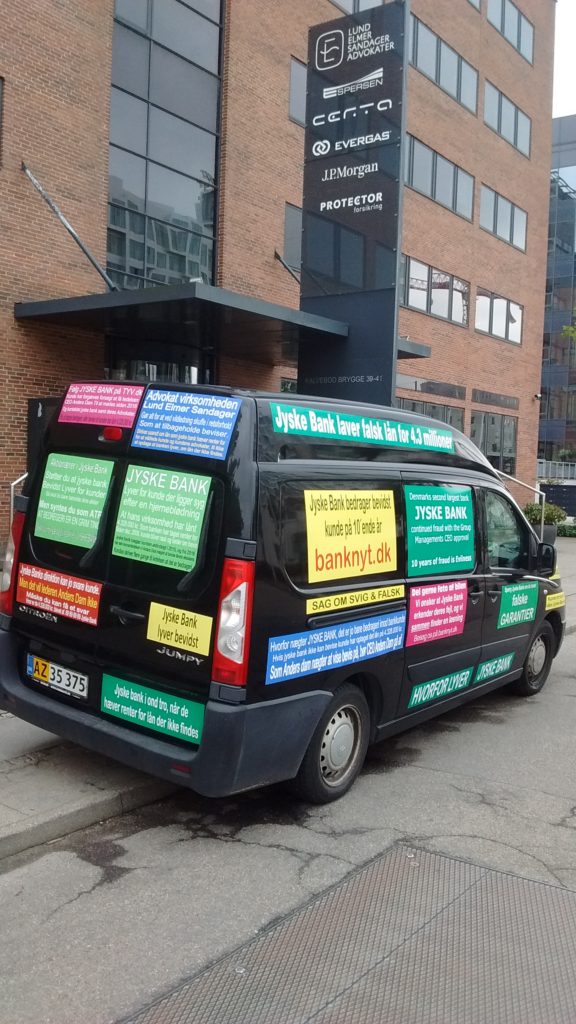 When Jyske Bank's group management sees nothing wrong in making a document false or fraudulent, use a return commission or that Jyske Bank's board members lie to the court.
Is there something wrong with the board.
Or does the law just not apply to the Danish banks.
We would like to talk to you about this scam, are you afraid to apologize for fraud, and think it is best to keep doing fraud.
De øverste ansvarlig for denne her dagbog
Er dem der må formodes at står bag Jyske banks fortsatte million svindel, tænkes at være.
Why do you keep laughing at us, instead of calling, is it so difficult to understand.
You come pretty far with concessions and apologies.
We have written many times, to the management that if there something the Bank does not agree with, then they should just call 22227713 so we can meet.
And together go through what not can be true, then we should fix it right away.
And we do it with a smile, and apologize for that.
Will Jyske Bank doing the same thing.
Only with a delay of between 4 and 12 years.
It is for you in the leadership, shouldn't we talk about it.
Yours sincerely
The Skaarup family from Hornbæk
Soevej 5. 3100 Hornbaek. phone +45 22227713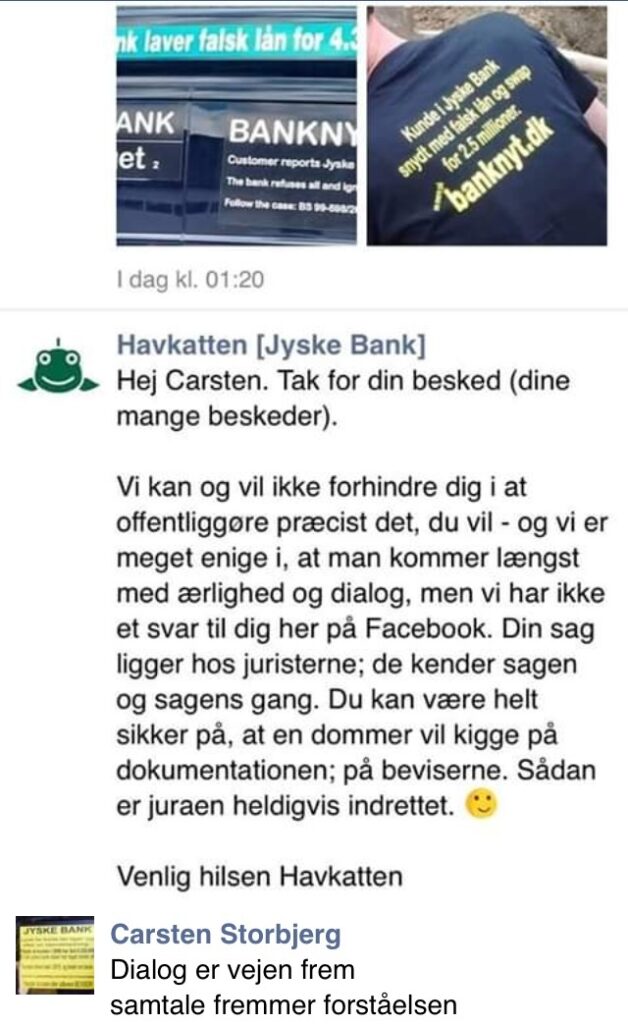 Jyske bank Havkatten, wrote before blocking us on Facebook and tweets that you come the longest with dialogue.
Just like Jyske bank wrote You can be sure that a judge will look at the documents.
The evidence like that is the law fortunately furnished. Afterwards, Jyske bank paid our lawyers not to present our evidence to the court.
The customer wrote to you and the management 24-06-2020
and asked you not to continue to deceive your customer, but you did not care.
Despite at least since May 2016, Jyske Bank has been aware that Jyske Bank is exposing your customers to fraud.
Ask the board Jyske Bank here, why they are continuing to do fraud against their customers, now that it has been discovered and has been presented it to the court see Appendix 153. and Appendix 204.
The little man against a Greek man with money power who seemed to be able to use to bribe the little man's lawyer, to go against his own client, while Jyske Bank pumps millions into the law firm.
A page about bribery in Denmark and the Danish banks' criminality against their customers.
Now it seems that Jyske Bank A/S In addition to the use of fraud exploitation and forgery also uses bribery, and our former lawyers Lundgrens is the recipient of a return commission.
Maybe Lundgrens will explain it to you.
complaint is shared with CEO Anders Dam
And the management of Jyske Bank.
You can read and hear conversations between complaints and Lundgrens as well as Rødsten's lawyers.
Hear how they try to manipulate their client.
You can also find links to several appendices, in the complaint against Lundgren's attorneys.
As well Process Letter 3. against Jyske Bank A/S for millions fraud.
The little Dane who fights against a large criminal Danish organization consisting of Jyske Bank submits with their new lawyer on Monday 27 April 2020 a defense against the Jyske Bank group for fake and fraud.
And at the same time works on the complaint against Lundgren's lawyers, in the saddle over lawyer Dan Terkildsen, which will be presented as an annex to the case.
It is about that at least since May 2016, the top management of Jyske Bank has been aware that Jyske Bank has deceived their customer, and has allowed it to continue.
It is not unknown to the senior members of Jyske Bank A/S
Lundgren's lawyers admit by phone that the client is probably exposed to fraud and fraud but will not submit it.
Read conversations and be proven that Lundgren's lawyers really cover Jyske Bank for making false documents
The next talks are 22-03-2019 and 08-07-2019.
THE MESSAGE IS STILL ONLY TO GET INTO DIALOGUE
Regardless, Jyske Bank claims to comply with all laws and regulations.
However, we do not agree with the group.
No matter what mighty friends will know to cover that Jyske Bank exposes us to continued fraud.
And you can laugh at the stupid customers in Jyske Bank A/S
who do not understand why the group does not customers for words such as customer service, honesty, trustworthy, reasonable.
It is not unknown to the senior members of Jyske Bank A/S that there are customers who are exposed to proven fraud.
And this is supported by the entire group together.
Still, all members are struggling to run fair banking, by not admitting that the group is doing fraud and fake.
–
–
–
–
Call +4522227713 if there is one or a few misunderstandings so we can correct this.
–
Lundgrens law firm is at risk to legal certainty in Denmark.
–
Partner Dan Terkildsen writes it is conspiracy theories.
When Lundgrens sends bills for almost 200,000 dkk. for failing to submit any of the client's allegations against Jyske Bank's group for forgery. "document false" and among

other things like fraud.
That indicates Lundgren's attorneys have wanted to help Jyske Bank's board to ruin the client.
While Jyske Bank A/S at the same time continues the

 bank's fraud, with a view to undermining the client's finances, and that the client can not afford a new lawyer, to put an end to Jyske Bank's continued fraud crimes against the bank's own customers.
🙁
And getting help from the client's lawyer, the client says it's like being in a bad movie.
Part of the Client's transferred money to Lundgrens disappeared.
If in Denmark you are exposed to what looks like organized crime, how large Danish banks are involved.
And you
are asking 
the police, as well as the Danish authorities to help you.
Then you will find that you are very alone.
No one will help you.
You might explain why Nykredit, we first had to sue Nykredit, before Nykredit's lawyer Mette Egholm Nielsen 18-10-2016
would answer the question, if we in Nykredit have taken out a loan of DKK 4,328,000
And when we should "Appendix D." have rescheduled this loan, which Jyske Bank has informed their customer "Appendix 29."
The answer from Nykredit was that there is no loan of DKK 4,328,000 in Nykredit. "Appendix 30. Case"
So it is simple Jyske Bank is lying and that of doing Jyske Bank Fraud.
This seemed to be Jyske Bank's collaborative partner from Lundgrens, not to be included in their case against Jyske Bank, which Lundgrens managed bypassing their client's otherwise very clear instructions
And you're the little against
apparently politically
system.
Where the elite cover the elite so that they can remain in power.
In our case they seemed to use all tricks, and as in our case now also seemed to have bribes thriving quite well.
And the only thing we have tried is to get a meeting with Jyske Bank's top management, to get some help here.
In the time the case has been in the City Court started in 2015.
We have only now, got a reputable lawyer who will help us, and present our case.
As we have since April 2016. After we discovered that Jyske Bank was probably a criminal and subjected to a huge fraud, our lawyer asked to file the case and to present our fraud allegations.
🙂
🙂
🙂
Now, we just want Jyske Bank Group management to admit that the bank is exposing us to fraud.
It shouldn't be that hard to understand.
Can the Board of Directors of Jyske Bank's organization, new and outgoing in the Jyske Bank A/S Group.
🙁
When partner Dan Terkildsen on August 13, 2019 told that Jyske Bank's Board of Directors has no responsibility, when Lundgrens has now clearly incurred a major conflict of interest, since the millions must have trundled into Lungren's account from Jyske Bank A/S
Here at the top is the Chairman of Jyske Bank A/S
CEO Anders Christian Dam, and below we have the next chairman of Jyske Bank's Board of Directors Kurt Bligaard Pedersen.
2 very powerful people, in the Danish industry.
None of Jyske Bank's Board of Directors have wanted any form of dialogue, or have Jyske Bank stop deceiving us.
---
While we fix the bank news.
If we move the many sub-pages to the block, this is done to tell you more about the many different criminal conditions, where the Jyske Bank Group very clearly violates the Criminal Code, and thus is to be described as criminal.
And individually we will review and explain on the pages, each one of Jyske Bank's many violations of the penal code provisions, and document them with 1st conditions on each page.
The customer accuses Jyske Bank's group management, in association, to stand behind, the bank's continued fraud against Jyske Bank's own customer.
This will be the case with the Danish authorities, which the police do not control, which is why Danish bank customers, in fact, stand alone against the largest and most powerful, apparently criminal organizations in Denmark.
There will also be audio clips shared with the client's former attorneys, so you can hear both.
And
In the shared recorded conversations, you will hear both Lundgrens and Rödstenen employees, even very clearly, and may be clearly informed by telephone.
Partly the client's many repetitive allegations against Jyske Bank A/S for fraud, but not least emphasizes the seriousness of the case, where the client repeatedly, says that it is a fraud and false case.
Which most recently Lundgren's staff, attorney Emil Hald Winstrøm in all telephone conversations has been disclosed.
Emil Hald Winstrøm confirms by telephone, that he has understood. that this is a fraud case.
Nevertheless, on behalf of partner Dan Terkildsen and Lundgren's attorneys on September 2, 2019, Emil Hald Winstrøm presents the case to the court, without including any of the client's claims.
🙂
And without sharing Lundgren's claim document with the client.
Although Lundgren's lawyer, and partner Dan Terkildsen is subsequently sued for a copy of their own claim document from 2 September 2019.
(Since it has nothing to do with the client's claims.)
Lundgren's lawyers at Dan Terkildsen choose
again
not to share court documents, with their client.
We will continually, share a lot where we can clearly prove, that several Lundgren's attorneys must have planned, not to submit their client's claims.
The client has really been without a lawyer since February 5, 2018
Use the link And and read the letter 25-09-2019 at the bottom of the page
This case clearly shows how some of Denmark's biggest lawyers, by their actions, are a serious threat to legal certainty.
The case here is a terrible example of how Danish lawyers, like here the plaintiffs' lawyers Lundgrens have really, counteracted their client.
At the same time that Plaintiff's Attorneys really worked for Defendants in the case, removing Plaintiff's claims against Defendants.
As here in the case where plaintiff's claims against Jyske Bank A/S were not presented to the court.
Plaintiff's attorney here Lundgrens, in this way, has shown that the law firm, in fact, has work to disappoint in legal matters, by going directly against the client's instructions.
As Lundgrens Advokater chooses not only to work against their client, but also chose to pursue another case against Jyske Bank A/S.
Than the case against Jyske Bank for fraud as the client February 5, 2018, transferred to Lundgren's lawyers.
Lundgren's Attorneys have harmed the confidence of the Danish lawyers, by unethical, dishonesty and possibly by violations of the law, made every effort to prevent their client's claims from being brought to court.
Can clients in the large law firms soon rely on the lawyers they employ if Jyske Bank A/S may pay Lundgrens, or otherwise have caused Lundgrens to do the exact opposite of what their client has 100 times said and written to be presented.
What do we have to do with great Danish lawyers like Lundgren's Lawyers.
The case here is about the big Danish lawyer's houses really to be trusted.
We can prove that several of those employed in Lundgrens, have proven to work against the client, rather than working for the client.
One thing here is that the client wants Denmark's second largest bank, Jyske Bank A/S, to stop the bank's fraud against the customer.
This they asked Lundgrens to help them with, instead Lundgrens is employed by Jyske Bank, and what happened then ?.
The client believes that the Jyske Bank groups have paid Lundgrens for not submitting their client claims to the court.
This is a serious problem for all Danes
And if the same lawyers as here Lundgrens, has clients in the US., ENGLAND, RUSSIA, CHINA, JAPAN, GERMANY Can these clients also get into the same problems as us?
When Danish clients obviously can't trust big Danish lawyer houses like Lundgrens.
Then Lundgrens becomes a major threat to legal certainty.
If you cannot trust the lawyer you hire will be loyal to you, as their client, this is a grave problem.
Lundgrens chose not to answer their client, or to share court documents with the client, which does not look good.
---
Here you can on 2 annexes, 1 and 2 September 2019.
By self-examination you find that Lundgren's lawyers, completely consciously and in bad faith, directly against the client's instructions, do the exact opposite of what the client repeated since February 2018. Lundgrens has to present in the district court.
Her kan du på 2 bilag, den 1 og 2. September 2019.
Ved selvsyn konstatere at Lundgrens advokater, helt bevidst og i ond tro, direkte imod kundens instrukser, gør det absolutte modsatte af, det klienten gentagne siden februar 2018. har sagt Lundgrens skal fremlægge i byretten.
Read about Danske Bank's million fraud against a customer, here carried out by Jyske Bank A/S and well assisted by the bank's board and Lund Elmer Sandager. Lundgren's lawyers who chose instead to counter the client's claims against Jyske Bank was not presented, the customer Therefore has had to submit their claims themselves for the court.
It's pretty funny. Here you only get 2 dates that show that Lundgrens is a rotten lawyer Corporation
January 8 and 9, 2019 September 1 and 2, 2019.
Lundgrens does not share the court's information Lundgrens does not write the client's witnesses on litigation 2.
Nor does Lundgrens share the litigation with the client
Appendices and letters are inserted in a timeline, and a page is created for those who have helped not stop Jyske Bank's fraud
We move the list below pages into the blog so that the page gets cluttered
---
Donation to lawyer assistance against Jyske bank A/S for gross fraud
carried out and continued by Jyske Bank's Board of Directors since May 2016
in association. received
IBAN DK0854790004563376.
Help us stop the criminal Danish banks.
---
It is a great thing for legal certainty in Denmark that a Danish bank is allowed by the police to commit crime. Or does the new chief of police or the Minister of Justice have a good explanation, no politicians or authorities will help stop Jyske Bank's fraud charges against us customers.
ER LUNDGRENS KORUPTE
Are Lundgren's lawyers corrupt and is the Danske Bank Jyske bank fraudulent.
Please read some of the many letters we have sent to Lundgrens, the court and Rørdtenen attorneys since 2016, to present our claims against JYSKE BANK FOR FRAUD AND FALSE.
If you have any questions then call +4522227713
best regards The Skaarup family from Hornbaek
Soevej 5. 3100 Hornbark
DK. Denmark.
Main hearing in large fraud case against Jyske Bank 30th of September & October 1 is listed after apparent problems with a corrupt lawyer
Who only 30 daysand 2 hours, before the main hearing, the court submits the client's evidence of fraud, and to file client claims.
A fraud case that ends up being about bribery in some of Denmark's largest law firms and Danish banks.
If CEO Ander Christian Dam has another explanation, our number is +4522227713
And wants Jyske Bank's group management to admit that we are exposed to fraud, and the Board has been aware of this fraud and false at least since May 2016.
Flytter tekst og kopi af bilag til indlæg 08-07-2020
---